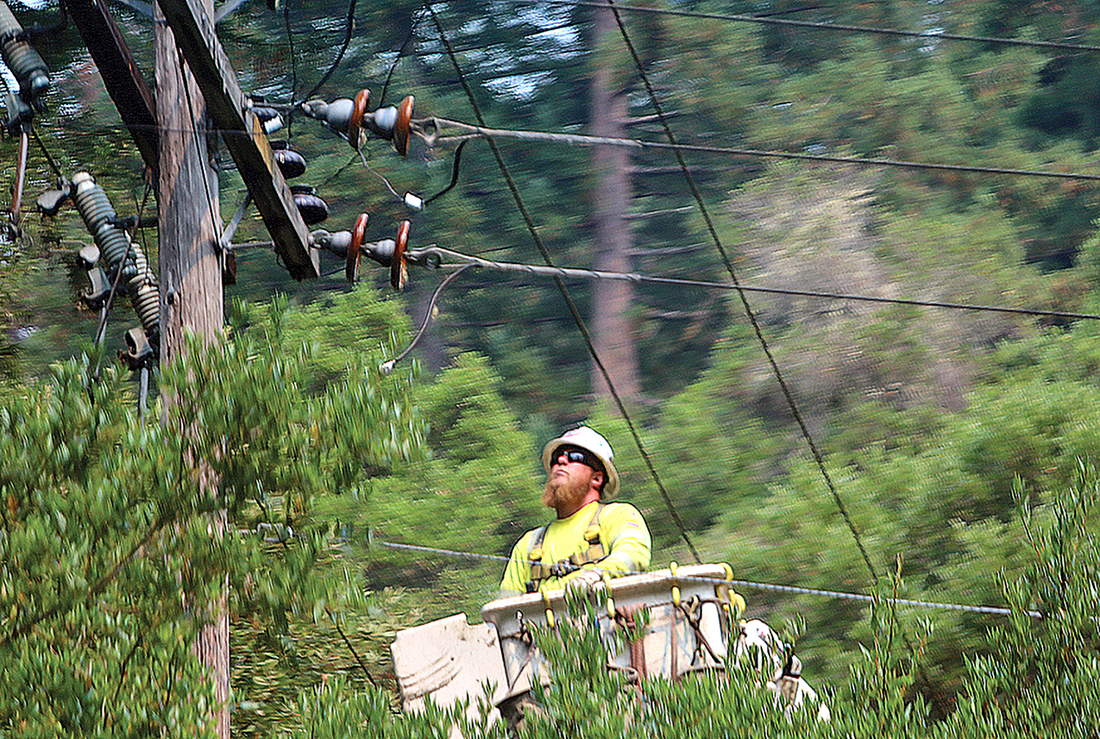 Officials and valley residents call for answers from utilities after blackouts
On September 20, Congresswoman Anna Eshoo championed the cause of local residents frustrated by frequent power outages, demanding answers on why PG&E's network was so unreliable.
In a letter to Patricia Poppe, CEO of the utility, Eshoo said residents of the Santa Cruz mountains were "rightly frustrated" by the diminishing reliability of electrical service in the region.
"While I appreciate the utility's long-standing attention to forest fire prevention, safety doesn't have to come at the expense of reliability," she said. "PG&E has not provided an adequate explanation to taxpayers that the utility has left in the dark."
Eshoo pushed President Joe Biden's $ 4.7 trillion initiatives that would, in part, increase reliance on power companies as the United States struggles to wean itself off fuels fossils responsible for climate change.
She was in Los Gatos on September 18 when authorities announced $ 7 million in public funding for forest fire preparedness in Silicon Valley.
Power outages in mountain communities such as Felton, Boulder Creek, Ben Lomond, Montevina Road and Brookdale have followed public safety blackouts and progressive blackouts, Eshoo wrote to the CEO. questioning the extent to which the increased sensitivity of fault detection equipment is really to blame for the intermittent delivery of electric current.
"Unexpected and multi-day outages are more than an inconvenience," she said. "They present their own health and safety risks, especially for the elderly and those living in more isolated areas. "
Weeks after customers protested PG&E's recent power outages on September 9 at its headquarters, the company announced that it would be hosting webinars for customers in the Corralitos and Watsonville area, and customers in the county. from Santa Clara and the San Lorenzo Valley on September 23.
Eshoo asked where PG&E recently installed new safety equipment, how many people in Santa Cruz County have been affected, whether the company has looked for other ways to reduce the risk of wildfires, and what it does to improve customer awareness.
"PG&E has an obligation to protect the safety of its subscribers and to provide them with reliable electricity," she said. "Trading the latter for the former is not an acceptable compromise in the long run."
Eshoo said the issues with PG&E underscore how important it is to tackle climate change, as dry forests are more likely to ignite when old electrical equipment breaks down and sends out sparks.
"This is why burying utilities is so important," she said, praising the provisions of the proposed Democratic legislation. "There isn't a single quick fix in this; you have to tackle it with a multiplicity of approaches – and the funding reflects that.
As she says she understands PG&E would want to play it safe after being accused of causing several devastating California wildfires, Eshoo says she doesn't understand why mountain dwellers have had to deal with so many. of power outages than them.
"My constituents in the Santa Cruz part of the district are suffering from the continued loss of electricity," she said. "It affects their life, and I don't have a clear answer for it."
In a recent press release, PG&E said its new public safety measures, including increasing the sensitivity of equipment, have resulted in a 50% decrease in potential fires.
"As the risk of wildfires in California continues to grow, PG&E is committed to implementing new safety measures to mitigate catastrophic wildfires," said Marlene Santos, executive vice president and director of PG&E customers. "These updated settings have already significantly reduced the risk of forest fires for customers in high fire threat areas."
While the focus on fire mitigation was well-intentioned, the blackouts wreaked havoc among residents, businesses and students. Beginning at the end of Labor Day weekend, residents of Boulder Creek in Felton saw their electricity cut several times in 10 days. Food from refrigerators and freezers was thrown in the garbage, noise and air pollution in the covered neighborhoods, and those with health problems requiring access to electricity were left behind, risking their health along the way.
According to PG&E, its new "quick trigger" technology is designed to "quickly and automatically shut off power if an object hits a line or there is a problem with the equipment". Unfortunately for residents of shared grids, the outage affects an entire circuit, leaving hundreds of customers without power for hours, with no clear message as to when power will be restored.
John Sidwell, a Santa Cruz Mountains resident, decided he had had enough and found a way to connect with Don Hall, PG&E Regional Director for Energy Solutions and Services. This conversation, says Sidwell, was an important first step in sharing the frustration residents feel at their helplessness in the face of public service.
During Sidwell's 45-minute conversation with the PG&E representative, he lamented that areas of the Santa Cruz Mountains have been without power for over 200 hours since the start of the year. These aren't little bumps in the road when it comes to managing life or working from home – that total time without power can have real consequences, he says. Residents who still work from home due to the pandemic have felt stress and frustration with the new system, especially since a power outage goes hand in hand with loss of internet access.
Following objections from the community, 5th District Supervisor Bruce McPherson agreed to participate in the PG&E Resident Forums and posted this statement on his Facebook page: "The outages … are a function of the new control systems. protection of electrical circuits. which will help prevent possible forest fires generated by public services. However, PG&E is always refining the sensitivity of this system, the climatic conditions in which the protection system is implemented and the way to reactivate the network more quickly. Based on the experiences of residents of Santa Cruz County and in particular the San Lorenzo Valley this weekend, we need to work more closely with PG&E to get it right and ensure that safety improvements do not lead. excessive or unnecessarily prolonged failures.