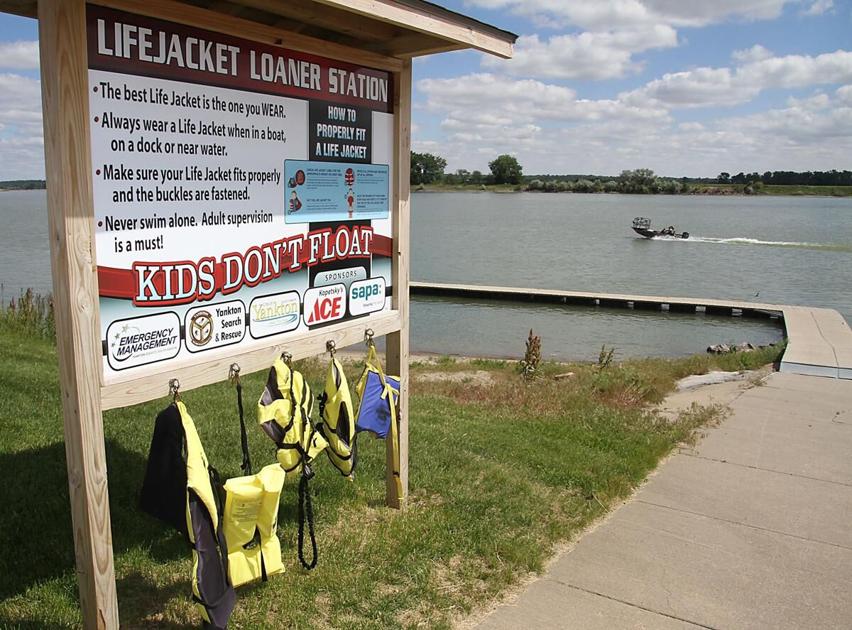 Authorities call for water safety after holiday drowning | Community
Authorities are calling for greater water safety following the July 4 drowning of a Madison, Nebraska teenager in Yankton Lake.
The lake is located on the border of Nebraska and South Dakota, near the Gavins Point Dam, and is managed by the US Army Corps of Engineers.
Several agencies, including divers from the Yankton, Mitchell and Sioux Falls units, responded to the call. Search and rescue efforts included the deployment of boats equipped with side-scan sonar and the deployment of drones.
The first 911 calls arrived at 3:22 p.m. and the body was found around 8:35 p.m. that evening.
The drowning was accidental, with the 16-year-old boy unable to resurface after falling from an inflatable flotation device, according to Sgt. Jeff Jones with the Nebraska Parks and Games Commission.
"As far as our investigation goes, this was just an individual who tried to stand on a flotation pool toy and he lost his balance," Jones told Press & Dakotan. "He couldn't swim and he didn't realize the real depth of the water in Yankton Lake.
Many people greatly underestimate the depth of Yankton Lake and the dangers that come with it, such as areas of sudden fall, Jones said.
"You have to understand that Yankton Lake was once a channel of the Missouri River. This is why the state border crosses Lake Yankton, "he said. "In areas where you ice fish, it's 10 to 12 feet deep. In the section where this young man drowned, it was 7 feet deep.
The victim has been identified as Pablo Domingo, 16, of Madison, Nebraska. Authorities have not released his name, but Madison's Resseguie Funeral Home has confirmed the teenager's identity to the Press & Dakotan.
He was born on March 25, 2005 in Guatemala, and his family moved to Madison when he was 11, according to his obituary. He was in his sophomore high school in Madison, Nebraska, playing basketball and running cross country.
Funeral services were held at Crown Hill Cemetery in Madison on Friday.
The Nebraska Game and Parks Commission released details of the drowning in a press release.
At 3:22 p.m. on July 4, the Cedar County, Nebraska Sheriff's Office received a 911 call from a young man who was drowning in the lake. Five Nebraska conservation officers responded, along with a Cedar County Sheriff's Deputy, U.S. Corps of Engineers Rangers, and South Dakota Hunting, Fish and Park Conservation Officers. .
Authorities recovered the body after a search of around five hours, which is quick for this type of search, Jones said.
"The vegetation was 2-3 feet thick so we couldn't use our side sweep deep enough," he said. "We also couldn't see all the way (through the water) with our drones and the helicopter. We also have trails, but the vegetation hindered it. But if you recover within 3 to 5 hours, you do (well). Otherwise, it may take days.
Authorities determined that the boy attempted to float on the lake from the swimming beach on a recreational flotation device, according to the press release. Witnesses reported that when the boy tried to stand on the device, he lost his balance, fell and did not resurface. A personal flotation device (life jacket) was not present.
"When we were walking over there (in Yankton Lake) it got waist high and then there was a pretty good descent there," Jones said. "You have to stay in the bathing beach areas. A pool toy is not necessarily a ship to float on the lake.
When crossing a deeper body of water, a recreationist must use a watercraft that the Coast Guard would define as a vessel, such as a kayak, canoe or paddle board, Jones said.
"It should be more than a recreational flotation device or a toy," he said. "These things tend to deflate, and they don't have built-in buoyancy."
Jones credited the quick emergency calls from witnesses as allowing for an immediate response to the rescue attempt. Cedar County instantly received multiple 911 calls, and Yankton County may also have received calls, he added.
The various agencies – federal, state, departmental and local – have developed a coordinated effort in emergency responses, Jones said. Preparation was evident in the immediate and widespread response to the call on a holiday weekend, he said.
"This is typically the teamwork that we have up there (on the Missouri River) between Nebraska and South Dakota. We have this cooperation on any drowning out there along the border waters, including the Lake Yankton, "he said." They know what gear everyone has and what they can do. They are also good with the drone.
In addition to the Yankton search and rescue unit, the Sioux Falls and Mitchell (Davison County) diving units assisted in the operation, Jones said. The additional manpower relieved the Yankton unit and would have allowed the search to continue until around 10 p.m., if necessary, he said.
As a reminder, Jones noted the requirements for the use of the life jacket.
"In South Dakota and (Nebraska) we enforce the lifejacket regulations. I cannot stress enough the importance of wearing a life jacket, "he said. "At this location (around Yankton Lake), the Corps of Engineers has a life jacket loaner program where a person can take a life jacket and replace it when it is finished."
In South Dakota, everyone on board a personal watercraft must wear a personal flotation device (PFD) at all times. Children under the age of 7 must wear a PFD on board any vessel operating faster than "slow wake speed, no wake", except below deck or in a closed cabin.
In Nebraska, every ship (except windsurfers) must carry a US Coast Guard approved Type I, II, III, or V life jacket of the appropriate size for each person on board. Each vessel (except canoes, kayaks, and windsurfers) must carry a US Coast Guard approved Type IV disposable device.
Anyone operating a motor boat or personal watercraft in Nebraska must be at least 14 years of age. Children under 13 and anyone in a personal watercraft are required by law to wear a Coast Guard approved PFD.
At the time of last week's drowning, authorities were already on alert for water-related incidents over the busy July 4 weekend, Jones said.
Alcohol and drugs were not part of the Yankton Lake drowning, but authorities were waging a campaign against Boating Under the Influence (BUI), he added.
"It was an Operation Dry Water weekend," he said. "We were looking for boaters under the influence. You need to stay safe when consuming alcohol.
Alcohol is the main contributing factor in fatal boating accidents. South Dakota law prohibits anyone from boating under the influence of alcohol or drugs. The state's legal blood alcohol limit for operating a vessel under the influence is 0.08.
Authorities recommend a designated driver when boaters are drinking.
The drowning of Yankton Lake was tragic and officials want to prevent further loss of life or serious injury, Jones said.
"We have a lot of summer left and there are a lot of people on the water," he said. "Be careful and wear your life jacket."
Nebraska Conservation Officers were aided in Yankton Lake recovery efforts on July 4 by the Cedar County Sheriff's Office, Nebraska State Patrol, South Dakota Game, Fish and Parks, Yankton County EMS (Emergency Medical Services), Yankton County Sheriff's Office, Yankton Search and Rescue, Minnehaha County Search and Rescue Dive Team, Davison County Search and Rescue Dive Team, US Army Corps of Engineers, Cedar County Emergency Management, Yankton County Emergency Management, and Wing Air Rescue.
Follow @RDockendorf on Twitter.